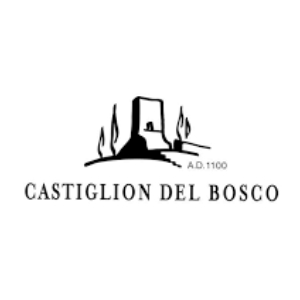 Castiglion del Bosco is located in the northwest of Montalcino, where the rocky, nutrient-poor soils are perfect for yielding wines of superb structure and complexity.
Montalcino
The estate's 2,000 hectares (5,000 acres) are largely occupied by dense woods of holm oak, oak, and beech, in addition to meadows, organically-farmed crops and 62 hectares (152 acres) of vineyard planted exclusively to Sangiovese. There are two completely distinct growing sections, each different as to aspect, soils, and weather conditions: the 20-hectare (49 acres) Gauggiole vineyard, just beneath the borgo, and Capanna, with 42 hectares (103 acres).
Capanna
Capanna is The Vineyard of the estate, a single parcel of 42 hectares (103 acres) that winds along the ridge of the hill like an enormous, supply-flowing river of green. It faces southwest, at elevations that begin at 250 metres (820 ft) and reach 460 (1509 ft). The vineyard, registered exclusively for Brunello production, is divided into separate parcels, beginning with the top of the hill, which is called Campo del Drago, and extending down to the foot of the slope. The soils in the uppermost areas are marked by an abundance of rock, a compact, gravelly mass, explains winemaker Cecilia Leoneschi, that, combined with scarce groundwater reserves, forces the vine to push its roots down deep. Here the rows are most exposed to the wind, which is the predominant characteristic of this vineyard, and most subject to wide day-night temperature swings. As one descends the slope, the character of the rock changes, with the central swath composed largely of galestro, while rock-studded clay schists predominate still farther down.
Gauggiole
Located in the northern part of the estate, next to the golf course and just below one of Castiglion del Bosco most sumptuous villas (Gauggiole), this homonym vineyard is one of the most amazing places within the estate. The soils here present a mixture of clay and rock, while the weather is characterised by a balanced alternation of heat and cold, ideal conditions for the development of the fruitiness classic to Sangiovese. As a consequence of the above conditions, the grapes grown in Gauggiole are mostly used for the production of the fresh Rosso di Montalcino, a wine that shows immediate drinkability and a very pleasant fruit.